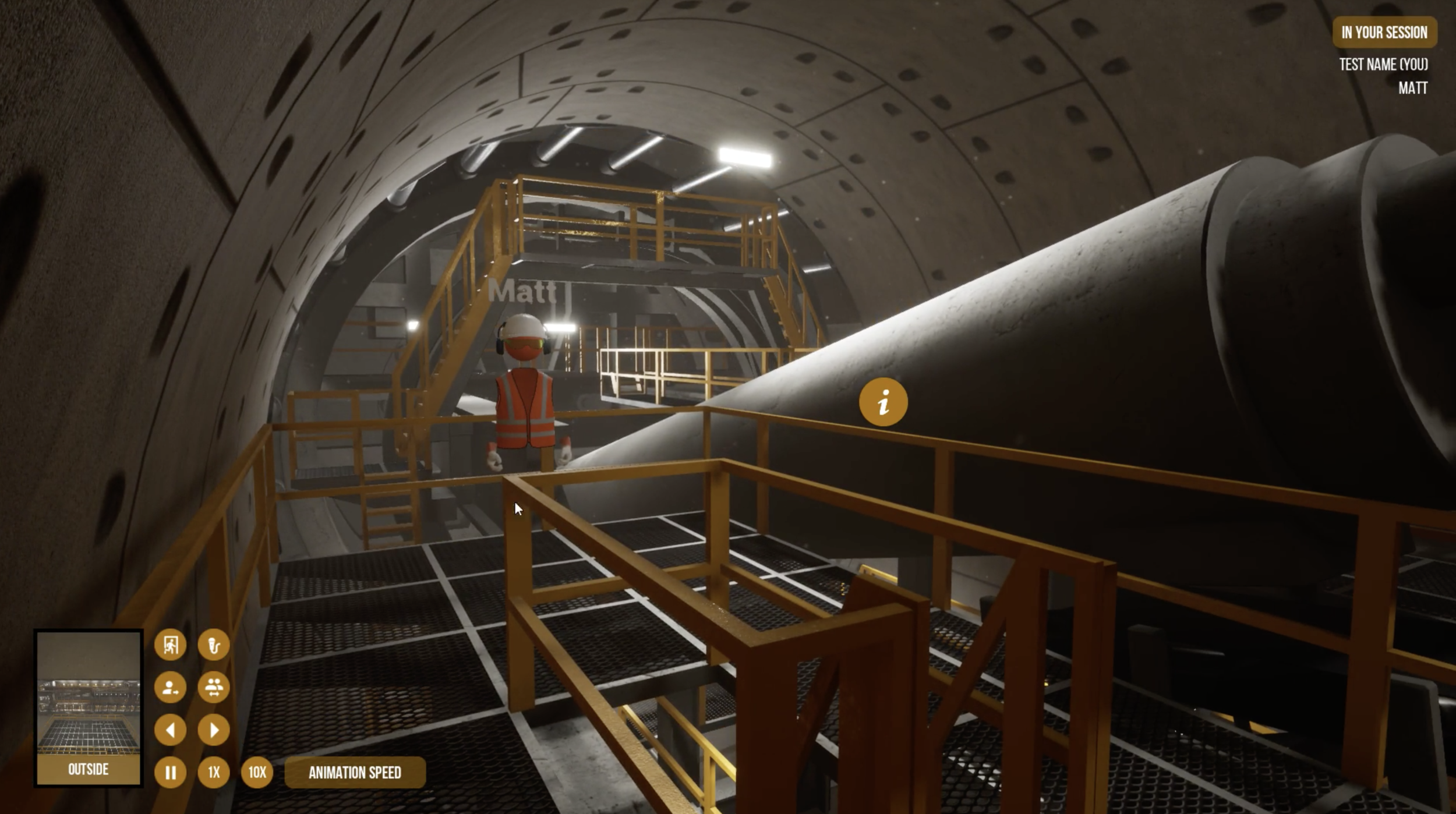 UNSW Teaching Aid Tunnel Boring Machine
Video Demonstration
Screen recording from Virtual Teaching Aid application version 20190803.
Application
Download and Install
Download the App from the following link - download [ 1 GB v20190803 ]
The file you download will be a self extracting archive. Within this you will find the app to run.
Ensure that your computer has appropriate privileges, and meets the following minimum specs (note to use the app with the HTC Vive, a much higher powered GPU is recommended):
Screen resolution - 1080p

Graphics Card - Nvidia GTX 960 (mobile) or better

Available Hard Drive Space - 2GB
VR Compatible Hardware
Controls
Mouse
You may left-click on any major surface to move towards it at a constant speed. Left-clicking again whilst moving will stop you instantly.

Holding down left-click and dragging the mouse will allow you to look around.

If you find yourself moving too quickly, you can adjust your movement speed with your mouse scroll wheel.
Keyboard
WASD keys allow you to move forward, left, backwards, and to the right, respectively.

Q & E keys adjust your height
Hamachi - Tutor/Host Instructions
Hamachi is required when you want more than one remote users on different networks to connect as if they are on the same network. Hamachi creates a type of virtual network over the internet.
If you have groups of 5 or less who wish to connect using Hamachi, there is a free tier for this. Alternatively for larger groups, the host will need to purchase a subscription.
Download and install Hamachi - https://www.vpn.net/

Create an account at vpn.net

Start Hamachi, and login using the account details you created for vpn.net

In your browser, login to vpn.net

In your browser, expand "My Network" under the "Networks" menu item

Click "Add Network"

Create a name for your network and select the "Hub-and-spoke" option

Press continue

Select the "Accept automatically" option

Tick "A password is required to join this network", then enter a password (You will be sharing this with the students, so do not use a personal password)

Press continue

In the list of "hubs" you should see the name of the computer you logged into Hamachi on. Tick the box next to it, then click continue.

Click finish

Under the "ID" column should be a 9 digit ID, of the form xxx-xxx-xxx , copy down this field.

When a student wants to connect to the network, they must install Hamachi, then press Network-Join an existing network, enter the ID you copied, and the password you set.

The student should now be connected to your Hamachi network.